Product Summary
The DS1390U-33+ is a low-voltage SPI/3-Wire RTC with trickle charger. Its applications include Hand-Held Devices, GPS/Telematics Devices, Embedded Time Stamping, Medical Devices.
Parametrics
DS1390U-33+ absolute maximum ratings: (1)voltage range on VCC pin relative to ground: -0.3 to 6V; (2)voltage range on inputs relative to ground: -0.3 to VCC+0.3V; (3)operating temperature range: -40 to 85℃; (4)storage temperature range: -55 to 125℃.
Features
DS1390U-33+ features: (1)Reset Output/Debounced Input (DS1391/DS1393); (2)Separate SQW and INT Output (DS1392); (3)Trickle-Charge Capability; (4)SPI Supports Modes 0 and 2 (DS1394); (5)SPI Supports Modes 1 and 3 (DS1390/DS1391); (6)3-Wire Interface (DS1392/DS1393).
Diagrams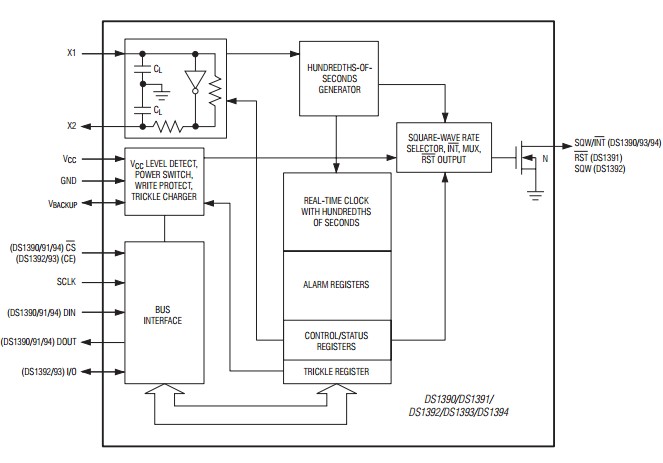 Image
Part No
Mfg
Description
Pricing
(USD)
Quantity

DS1390U-33+

Maxim Integrated Products

Real Time Clock Low-V SPI/3-Wire With Trickle Charger

Data Sheet



| | |
| --- | --- |
| 0-1: | $2.44 |
| 1-25: | $1.63 |
| 25-50: | $1.03 |
| 50-250: | $0.98 |


DS1390U-33+T&R

Maxim Integrated Products

Real Time Clock Low-V SPI/3-Wire With Trickle Charger

Data Sheet



| | |
| --- | --- |
| 0-1: | $1.97 |
| 1-25: | $1.48 |
| 25-50: | $1.32 |
| 50-100: | $1.30 |